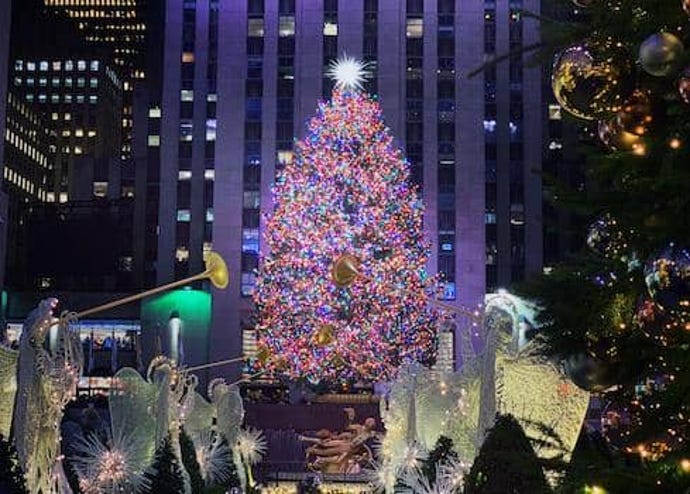 Credit:
WillEye via Alamy Stock Photos
This year if you want holiday magic you're more likely to find it on Netflix than in your local department store. Holiday films often focus on the retail gift shopping experience with scenes inside department stores with joyful crowds, Santas and elves and glittery bright decorations. All this while snow falls outside against a winter sky. It's magical.
And then there's this year. Of course, this year is an improvement over last year when everyone was still planning to spend the holiday season alone, sheltering from the pandemic in a pre-vaccination era. This year with so many people vaccinated, there may be some holiday gatherings and gift exchanges on the calendar, but supply chain problems and a tight labor market has made this 2021 holiday season one of continuing challenges for retail companies.
Retailers used to try to create magic in the store to draw shoppers in and get them to spend during the holiday shopping season. Not so much anymore.
"Retailers have at least temporarily backed away from making the store a more entertaining experience," says Dan Mitchell, director of the global retail practice at analytics software giant SAS. "In 2020 the script flipped. I would hardly call contactless retail innovative."
Retailers are working on several initiatives in 2021 designed to improve upon the processes that they slapped together in a rush during 2020 to fit the needs of pandemic shopping patterns that had shifted in unexpected ways.
Omnichannel Fulfillment
After so much shopping moved online during the pandemic, whether it was gifts or groceries, retailers are working to create a better integration of these two worlds. For instance, omnichannel fulfillment has become a huge deal, says Mitchell. The goal is to eliminate inventory silos -- one for physical stores and another for online orders. Instead, organizations want to create a virtual inventory of all the stock that is in stores and in warehouses. From there, they want to fulfill orders with the inventory that will reach the customer in the shortest amount of time, whether that's from a warehouse or a nearby store.
"The single most important thing is how to fill an omnichannel order efficiently," Mitchell says.
Some of that importance comes from the fact that most every retailer is competing against Amazon, the giant online retailer that was able to use its analytics and supply chain dominance in the most recent year to beat everyone else in delivering what consumers wanted to buy by the next day.